Maximising your marketing effectiveness and increasing the impact of your printed literature is what we do best.
We are a forward facing, technology-led company delivering effective print services and innovative marketing solutions to businesses within the public and private sectors.

Formed in 2019 the Blackfish Group is a consortium of integral Print and Marketing Companies, all working together to offer maximum efficiency and cutting-edge innovation.
Serviced Areas
Contact Details
Products & Services
Campaign Ideas & Implementation
Let's work together to develop winning ideas that ensure your marketing campaigns deliver the desired results.
---
Collateral for Exhibitions
With so much planning involved in exhibiting it's easy to overlook individual elements. Having targeted and memorable literature to hand out is critical in generating good quality sales leads. Let us help you put together effective marketing literature to take to these events.
---
Copywriting
Professional copywriting is a relatively untapped resource that holds the key to the success of your website, business literature, marketing campaigns and social media.
---
Direct Mail Fulfilment
When you work with us, capitalising on the success of direct mail has never been so simple. We can develop a direct mail concept, create artwork and print your mailer as well as handling the personalisation and mailing process.
---
Social Media Management
Making an impact on social media can be a time consuming task, but with our full social media management service the process is completely painless.
---
Promotional Products
Branded give-aways are so popular, they're ideal for rewarding loyal customers, handing out to prospects at events and promoting product launches.
Stay organised by ordering your branded items from us and get them delivered in time along with all your printed literature and marketing resources.
---
Creative Services
Our in-house studio team will create you awesome visuals, that are guaranteed to get people talking about your business and brand. With our full range of services you can easily keep track of all your projects and ensure outstanding brand consistency throughout.
Social Activity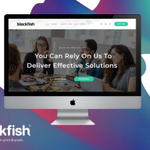 Have you seen our NEW website? https://t.co/IEAr0B3lva #print #marketing #graphicdesign #creative https://t.co/bwnW3aohgg
Outstanding Marketing | Awesome Design | Impressive Print Want to know more? Email team@blackfishgroup.co.uk
From Our Website
Providing you with arresting creative campaigns, sound marketing strategies, awesome print and dynamic digital resources. All delivered on time and with a massive smile. With a wealth of knowledge, experience and imagination our friendly workforce can offer helpful advice and innovative solutions to ensure you realise your business objectives. The Blackfish Group is a consortium of Print, Marketing & Creative Companies, all working together to offer you maximum efficiency and cutting-edge innovation.
Nearest Businesses